GETTING HERE
LOCATION: We're playing on Broadway at the Booth Theatre (222 W 45th St, New York, NY 10036), located on 45th Street between 7th and 8th Avenue. See a larger map & get directions
BOX OFFICE: Our Box Office is open for fee-free ticketing Monday – Saturday 10am – 8pm, and Sunday 12pm – 6pm (open until curtain, when there is an evening performance).
ARRIVAL: For performances, our theater generally opens 45 minutes before the show begins. We recommend arriving about 30 minutes before your performance's start time, in order to get settled and avoid lines.
PUBLIC TRANSPORTATION: The Booth Theatre is closest to all 42nd Street stops on the 1, 2, 3, A, C, E, B, D, F, M, N, Q, R, W, 7, and S subway lines.
PARKING: Nearby parking is located at Laz Parking (436 W 40th Street). With proof of ticket purchase for Kimberly Akimbo, parking is specially priced at $40 for up to 10 hours.
EVERYONE IS WELCOME
We are all part of making the Booth Theatre a welcoming, inspiring place where everyone can feel they belong.
Discriminatory and intimidating behaviour have no place here. If you experience any, we'll take action. Speak to any member of staff who can refer you to a manager. We're here to be proactive and to help.
We take pride in acting with care and compassion, and everyone who visits or works here is entitled to be treated with dignity and respect. This place exists to spark creativity and thought, but please don't assume that other visitors and staff will necessarily agree with your point of view.
Please be open, patient, and kind.
THE SHOW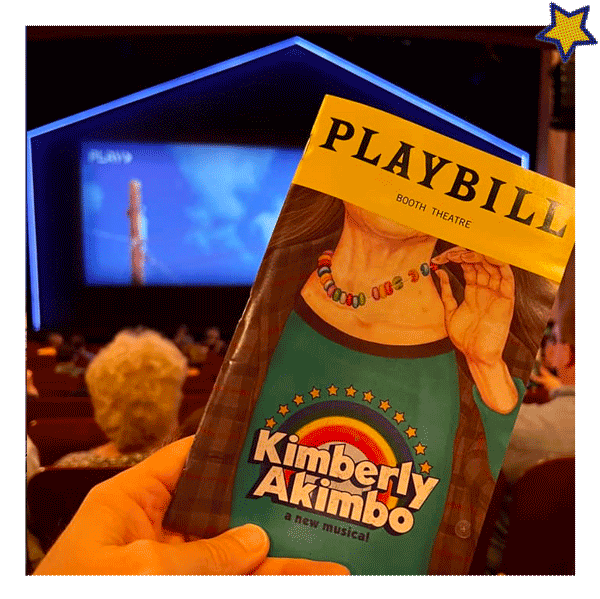 CONTENT: Kimberly Akimbo is about growing up, and growing old, not necessarily in that order, and is recommended for ages 10 and up. The show contains some strong language, crude humor, references to alcohol use, and authentic New Jersey vernacular. For that reason, children under the age of 4 are not permitted and viewer discretion is advised.
ATTIRE: For all performances, attire should be comfortable and appropriate for the occasion. There is no dress code at the theatre, and formal attire is not required.
RUNNING TIME: The running time is 2 hours and 25 minutes, which includes one intermission.
RECORDING: The use of cameras, recording devices, cell phones, and other electronic devices during the performance is prohibited, except as permitted for accessibility services.
MERCHANDISE: Show merchandise, including the Original Broadway Cast Recording, will be available in the theater lobby beginning 45 minutes before show time, during intermission, and immediately after the show. Merchandise can also be purchased next door at One Shubert Alley during regular business hours and anytime at our Online Shop.
FOOD & DRINK
 NEARBY DINING: If you're looking for a pre- or post-show meal, we recommend one of our restaurant partners.
LOBBY BARS: Our lobby bars offer soft drinks, water, and cocktails beginning 45 minutes before the show and during intermission. Bars are located on all theater levels. Visit the bar before the show to pre-order your intermission drinks!
WHERE TO STAY
NEARBY ACCOMMODATIONS: If you're looking for a place to stay while you're in New York City, we recommend our hotel partner.

Hilton Times Square (234 W 42nd Street): offering Kimberly Akimbo fans 15% off best available rate, including early arrival (2pm) and late departure (1pm). Terms and blackout dates apply. Book here.
ACCESSIBILITY
ASSISTED LISTENING: The Booth Theatre provides accommodations for patrons who are blind, deaf, partially sighted, and/or have hearing loss. The theatre provides infrared assistive listening devices for every performance at the theatre. In addition, beginning four weeks after a show's official opening night performance, hand-held audio description devices and hand-held captioning devices are available, and there is unlimited access to downloadable audio description and/or captioning for personal mobile devices free of charge. For more information about the Booth Theatre's accessibility, click here.
WHEELCHAIR ACCESSIBILITY: The Booth Theatre is committed to the needs of patrons with disabilities. Accessible seating is available for this performance as indicated on the seating chart. All accessible seating locations may be purchased online, pending availability. If you do not see accessible seats available for a selected performance, it means that performance is sold out of accessible tickets and you should try selecting a different performance. Please note that wheelchair seating is located in the Orchestra only (pending availability). You may purchase up to 3 companion seats with wheelchair seating and 1 companion seats with transfer arm seating.
The Booth Theatre has an accessible, all-gender restroom located on the ground level. Future accessible performances including super-titled and sign language interpreted performances will be scheduled. For more information about the Booth Theatre's accessibility, click here